Confidence is... a GlowLite Onboard!
EDR-103M Super GlowLite
Lights glowplugs at idle for reliability.

All solid-state design replaces servo, complicated microswitches and wiring.

Exclusive No-Glitch, No-Interference circuit! Fly with it right next to your Rx!

Works with all receivers!

Weighs less than one ounce!

Auto shut-off when your Rx is off!

Ultra-simple installation!
Just plug into your throttle (with a Y-harness) or aux channel, connect your onboard glow battery and glowplugs, and...
have the peace of mind of reliable idle and the safety of not needing fingers near the prop!

Fully adjustable turn-on point, remote LED indicator and reversing switch to match your throttle servo direction.
EDR-103M5 Super GlowLite for 3-5 Cylinders
ONLY $79.95

Accessories to help complete the installation:
Accessories to help complete the installation: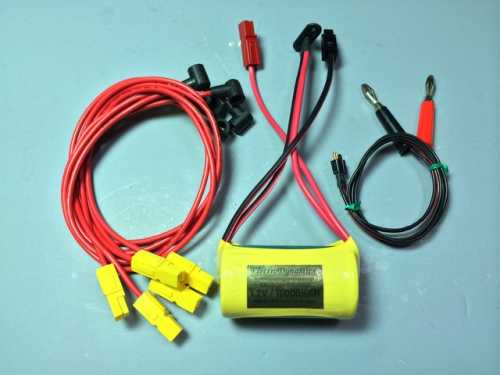 For 5 cylinders...
GlowLite Accessory Package for 5-Cylinder -- $84.00
5 Glowplug connectors
10000D NiMH
Charge Receptacle
3-cylinders?
GlowLite Accessory Package for 3-Cylinders -- $74.00
Same as above, but with 3 Glowplug connectors
Click HERE for fullsize detailed schematics:


All full systems (EDR-103M ordered with an Accessory Package) come pre-wired,
Plug-And-Fly Ready
No soldering required!